3d Dance Studio honors birthdays, celebrates seniors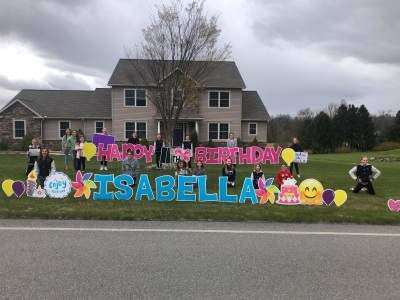 Published June 17. 2020 12:00AM
As with many businesses in the Lehigh Valley and beyond, owners are trying to adjust to this new temporary change of life during the COVID-19 pandemic. Danielle Fritz O'Brien, owner of 3d Dance Studio in Northampton, is no different. The Alburtis resident is supporting her clients by participating in delivering a special birthday message in the form of a parade for her dancers.
On April 27, Isabella Derhammer, of Northampton, was the honorary recipient of a special birthday event for turning 11 years old. Isabella has been a student of 3d Dance Studio for eight years.
"She is truly a remarkable child who deserved a super happy birthday," Fritz O'Brien said.
To put on a perfect birthday parade, parents, who are organizing the parades, teachers and students attend the events. The participants wave, yell greetings and blast music.
"[Parents] give [the teachers and students] a meeting spot and time. Any teachers who are available join in on the fun," Fritz O'Brien said.
During the April 27 birthday parade, Isabella's best friend, Madison, surprised her with lawn decorations.
Fritz O'Brien said she has lost count of how many birthday parades she has attended.
"It really is a blast. I load up my own kids, and we drive all the way over to Northampton, Bethlehem [and other locations], but we wouldn't miss it for the world. My kids love waving out of the sunroof and throwing the birthday kids candy. I try to make as many as I physically can," Fritz O'Brien said.
The biggest parade - a spirit parade in honor of recital weekend, which was postponed - was held May 17 on Lerchenmiller Drive.
"This would have been our 11th annual recital weekend, so to make the best of the situation, we decided to social distance and still connect. This way, we can still celebrate our dancers, teachers and, most of all, our seniors," Fritz O'Brien said.
"We are so excited to spread a little love and positivity during these uncertain times. We want our students to know how much we love and miss them," Fritz O'Brien said.
In addition to the birthday parades, 3d Dance Studio also has online Zoom classes as a way to keep the connection and business going. Classes offered are ballet, tap, jazz, contemporary, musical theater and gymnastics for ages 2-1/2 to 18.
"We tried to offer a little bit of everything on Zoom so that all of our students can be included," Fritz O'Brien said.
Currently, the studio's doors are closed, and Fritz O'Brien thinks they will be for a while.
"For the first month, we accepted donations, and I am beyond thankful for that," Fritz O'Brien said. "We have such an incredible clientele. Without them, we would be sinking."
Fritz O'Brien and her team have decided to start with a minimal schedule of classes, about 20 for now at least, on Zoom. When the doors reopen, staff will offer more than 95 classes a week.
Using Zoom, Fritz O'Brien said, was a little uncomfortable since she and her staff are very hands-on.
"We feed off their energy and teach with them, not at them, so Zoom for us is a huge adjustment. I am also a huge hugger, so it's torture to not be able to squeeze them as they race through the studio door!" Fritz O'Brien said.
Right now, there is about one-third of the regular students enrolled. That percentage is scary to Fritz O'Brien as an owner; however, she said she is thankful for those who are supporting the studio.
"Our staff misses our students so much. I have had staff volunteering their time to offer pop-up classes here and there, just to have that connection. At 3d, we genuinely care for every single child. In 11 years, we have never been apart this long," Fritz O'Brien said.
"We were so determined to not let anyone lose out on classes due to finances related to COVID-19 that we created a scholarship fund. We sold 3d STRONG tank tops and raised over $800. Families had to submit why they love 3d in order to be considered. It was a huge success," Fritz O'Brien said.
Fritz O'Brien, who has owned the 2022 Main St., Northampton, studio since 2009 when it opened, is also a full-time instructor, competition team choreographer and social media and marketing manager. There are more than 530 students enrolled - girls and boys - with a staff of 11 members.
Fritz O'Brien is very proud of her dancers' accomplishments, she said. Students of the dance studio won the title of World Champion in the 2019 World Dance Championships.
"We are so proud of them and cannot wait for them to eventually repeat that title in 2020!" Fritz O'Brien said.
Fritz O'Brien is also proud of her students wanting to support each other.
"In a time where the world is so sad and confused, I highly suggest birthday parades," Fritz O'Brien said. "It is just a few minutes out of your day to make a huge impact on friends and family. Showing support, friendship and sharing some happiness is really what everyone needs right now."