George helps new team earn MAC title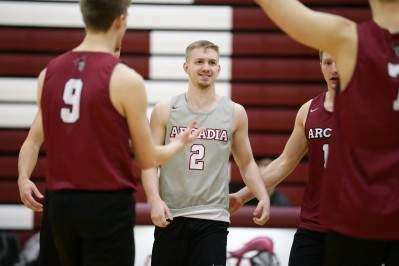 Published May 14. 2020 12:00AM
Zayne George will always be known as a pioneer. The 2016 Emmaus High School graduate took a chance and joined a brand-new collegiate men's volleyball program after finishing his career as a Green Hornet.
Division III Arcadia University added men's volleyball in the spring of 2017. Looking to continue his playing career, George saw a perfect fit at Arcadia and with the Knights' volleyball program.
"One of the main reasons why I chose Arcadia is because of the class size," said George. "With Arcadia being a small private University, class sizes rarely get above 20-30 students. With Emmaus being such a large high school, this transition was relatively seamless.
"As for volleyball, I saw a great opportunity. Starting a new program meant starting a new legacy. We were the guys who built the culture from the ground up, and we did it together. Being thrown into the fire with a bunch of guys who were just as uncomfortable as I was made the whole situation a little bit easier. I also really liked the location of Arcadia. It was not too far from home, but it was also right on the outskirts of Philadelphia, so the possibilities seemed endless."
Eli Porr had head coaching experience as the Knights' womens head coach since 2015. He was tasked with taking a large first recruiting class to build his program. He found his libero/defensive specialist in George when he was a senior at Emmaus.
"Zayne is a huge part of what our program is today," said Porr. "He is a part of the eight seniors that we graduated that all came in together for the first ever recruiting class at Arcadia. He is a great teammate and a great competitor. Zayne did a great job growing and learning over his time in Arcadia. Convincing him to be a part of our new program was not tough. He was up for the challenge and wanted to be a trailblazer."
It did not take long for Arcadia to experience success. In 2019, just the third year for the program, the Knights won the MAC Championship and qualifying for the NCAA Tournament.
"Our season last year was a season that I will truly never forget," George said. "One of our main goals as a team had always been to win the MAC championship, but it always seemed a little too far out of reach. We had made it to the championship the year before, but lost 3-0 to our rival Stevenson. Going into my junior year, we wanted to turn things around.
"We were able to pick off a few nationally-ranked teams, and even earn a national ranking. We were also able to secure the No. 1 seed in the conference above Stevenson, which meant that we would have the championship match at home this year. Playing in and winning that match was truly an experience that I will never forget, and it meant so much more that we were able to do it in front of all our fans. Having finished second throughout my entire high school volleyball career at Emmaus, finally being able to finish at the top is really a feeling I will hold on to forever."
Emmaus holds a special place in George's heart, and his experience as a student-athlete gave him more than enough experience to adapt to college life.
"My time at Emmaus helped me prepare for college more than I could have ever imagined," said George. "The transition was not nearly as rough as I thought it would be due to both schools being similar in size. There are also endless resources at Emmaus, including many teachers and guidance counselors who would go out of their way to ensure a student's success. I was also able to get an understanding of what it meant to be a student athlete. Although this path can be demanding, it also allows you to be in a group of people who you can instantly bond with in any situation."
George played in 111 matches over his four-year career, finishing with 582 digs and 104 assists. The Knights went 11-10 in a shortened 2020 season.