Girls rebound, top DHS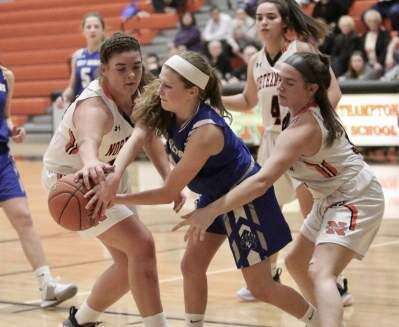 Published January 08. 2020 11:00PM
The Northampton girls basketball team passed the halfway point of their regular season with a mark of 9-3 following a 56-25 home win over Dieruff on Tuesday.
The K-Kids outscored the Huskies 21-0 over the first five minutes of the game. Head coach Jeff Jacksits called off the press after 3 minutes and gave heavy minutes to his bench in order to keep the score down.
Northampton led 25-4 after the first quarter, 34-15 at the half, and 51-18 after the third period.
Every player on the varsity roster played during the game and everyone attempted at least one shot except Taylor Sommer, who contributed 2 rebounds.
Devyn Demchak led the Kids with 13 points and 6 rebounds. Kylie Gilliard racked up 11 points on a perfect 5-for-5 shooting night. Grace Lesko scored 10 points and grabbed 4 rebounds. Taylor Kranzley scored 8 points and had 5 steals. Kelly Tita was 2-for-2 behind the arc for 6 points. Shaylynn Waiters had 6 points and 3 steals. Rose Hower's 2 points were the last of the night for Northampton.
The win over Dieruff allowed the Kids to put their 45-37 loss to Freedom on Saturday in the rearview mirror.
Jacksits summarized the game against the Patriots.
"It was tight all the way until near the end," he said. "We had a spurt where we didn't shoot well. We only shot like 20-some percent. We were 0-for-9 from three. They were 6-for-14 from three. That was the difference in the game."
Northampton is only two wins away from locking down their district playoff spot. Their conference record stands at 5-3. They still have their three Mountain Division opponents left on the schedule, so an EPC tournament berth seems likely.
The team's next game is at home Friday against Easton. The Rovers are 8-4 on the season and have given Nazareth their only loss. They also lost a tough 53-50 game to Beca, so the Kids will have to bring their A-game to claim the win.
They follow that up with a trip East Stroudsburg North Saturday afternoon at 1 p.m. On Tuesday, they travel to Pocono Mountain West and then host PM East on Wednesday.