Field hockey gets big win over Stroudsburg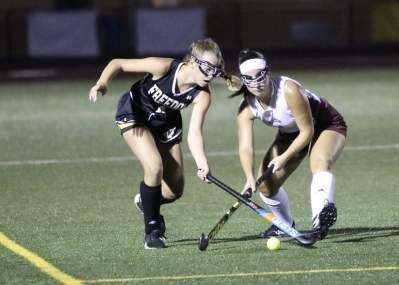 Published October 03. 2019 12:00AM
Head coach Jennifer Bodnar was looking for that signature win this season, and her field hockey team delivered in a big way last Thursday night against Stroudsburg.
Riding a stretch in which they had won three out of their last four games, Bodnar was still looking for them to post a win against a team with a .500 mark or better.
What she found was a team ready to step up to that challenge last Thursday at the Zephyrs Sports Complex, shutting down the Mounties who were 7-4 heading into the game.
Bodnar said that they came out pumped and ready to play. She said that the atmosphere, the energy of her team, it was all on full display in that game.
"It was really a fun game to coach, a fun game to watch," said Bodnar.
She said it became apparent that once the whistle blew, the Zephyrs were ready to erase the Mounties past dominance.
"They played with an incredible amount of energy and intensity throughout the game," she said.
They got an early corner, one of five they earned against the Mounties, and capitalized when Joyce Lu inserted the ball to Maddie Trocki. Trocki wasted no time getting off a shot. As it made its way toward the cage, Emma Bonshak was able to deflect it, netting the game winner.
"Emma had a great touch on it," said Bodnar.
Their defense was stellar against the Mounties, owners of a 10-game winning streak over the Zephyrs. That ended with the Zephyrs 1-0 win.
Goalkeeper Mackenzie Holubowski, who finished with six saves, had a number of big kick saves in the first half.
Bodnar said that Holubowski has been playing well of late, with the sophomore recording another shutout in their 8-0 win over East Stroudsburg South.
"She's been stepping up and making some great plays when we needed her to," said Bodnar.
Their back line also played an important role in the victory against the Mounties. Bodnar said that seniors Lu and Hallie Kern were like blocks of granite on defense. She said that both players bring a tremendous amount of drive and determination to the back line.
"They've done a fantastic job all year," said Bodnar.
Defender Katie Dez also falls into that category. She's strong and durable, and they can lean on her to play a lot of minutes at a high level.
Bodnar can also turn to defenders Avery Peracchia and Brielle Schrey who are also part of a strong back line for the Zephs.
The game only generated 10 shots on goal between the two teams. Bonder said that she was really pleased with how they controlled the action in the middle of the field.
"I think we executed really well in that part of the field," said Bodnar. "We took Stroudsburg out of their game."
With their win over ESS following the win against the Mounties, the Zephs are a game above .500 at 7-6. They could conceivably win the majority of their remaining five games and that would catapult them into the district playoffs. That quest begins with a Tuesday evening game against Freedom.