K-Kids Roundup Wheeler wins EPC boys golf tourney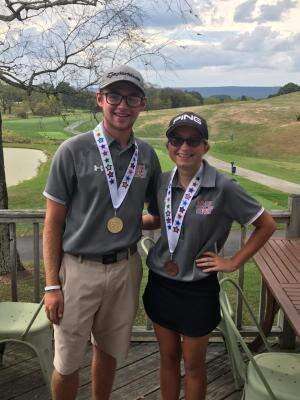 Published September 26. 2019 12:00AM
Northampton's Nate Wheeler captured the EPC golf tournament boys title with a score of 75 at Olde Homestead Golf Course on Monday morning. His 75 actually first sent him into a playoff with Aiden LeBlanc of Emmaus, who also shot 75.
Wheeler placed a 30-foot putt right up to the hole for a tap-in while LeBlance three-putted from a similar distance on the first playoff hole. The win gave Wheeler the EPC boys title.
"Nate is a testament to hard work," said head coach Brian Davis. "He started with a 97 average as a freshman, committed to improvement, put in the hours and got his average down to a 77 his senior year. Not only that, but Nate is a great kid, helpful with beginner golfers, and has a very positive and friendly attitude.
"The EPC win was a validation of his time and effort. I know he is excited about his win and we are all looking forward to seeing him succeed at districts and beyond."
Emmaus' Michelle Cox shot a 74 to win the overall EPC title, and of course, the girls title.
Northampton's Madison Salter also medaled taking third for the girls with a 91, right behind Ava Sweeney of Parkland who also shot a 91.
Northampton took sixth as a team with Emmaus winning the team title and Liberty coming in second.
Keller Repasch shot an 88, Ryan Kovach a 93 and Andrew Sawarynski a 97.
Northampton defeated East Stroudsburg 426 to 624 in a recent match at the par-72 Woodstone Country Club.
Northampton scores were: Nate Wheeler - 70, Ryan Kovach - 82, Keller Repasch - 88, Andrew Sawarynski - 92 and Madison Salter - 94.
***
In volleyball Becahi defeated Northampton 25-22, 28-26, 25-23.
Alexa Barowski was a leader on the court and had 12 kills and 3 blocks for the Kids.
Brooke Rockovits and Mya Cascario also had 14 and 15 digs, respectively. Sydney Heffner added on 32 assists.
Liberty defeated Northampton 25-17, 23-25, 25-17, 25-17.
Brooke Rockovits had 18 kills. Mya Cascario had 30 digs and Sydney Heffner had 30 assists.
Northampton defeated Nazareth 25-21, 25-23, 25-16.
Brooke Rockovits had 13 kills. Sydney Heffner had 27 assists.
***
In field hockey, the Kids beat Pleasant Valley 7-0 behind six first half goals and while holding the Bears to just three shots.
Northampton goals came from Laura Tucker, Bri Sell, Jordan Sommers, Olivia Loran, Lauren Schaller, Brooke Peters and Taylor Kranzley.
Loran finished with a goal and three assists on the day while Schaller added a goal and an assist. Paige Masonheimer and Morgan McEntire each added assists as the Kids fired off 33 shots.
Laura Filchner and Cassie Borzillo combined for three saves in the win.
***
The NHS football team pulled out a 42-28 victory thanks to a big first and fourth quarter.
The Kids scored twice in the first and took a 21-14 lead into halftime before leading 28-21 heading into the fourth quarter. But the Kids pulled away for the victory.
Tyrese Brandon had a huge day, rushing seven times for 69 yards and two TDs. He hauled in four catches for 151 yards and two more TDs.
QB Joe Kerbacher was 9-for-15 for 220 yards and four TDs on the day.
Jared Russell caught two balls for 37 yards and a TD and Josh Gaycheck hauled in two passes for 23 yards and a touchdown.
Spencer Cole made seven solo tackles and assisted on four to lead the way on defense. Michai Hubert and Aidan Kromer each had a sack.
Editor's Note: Due to a technology error, we didn't have our normal football coverage this week. Look for more coverage of the football team in next week's edition.