Girls soccer wins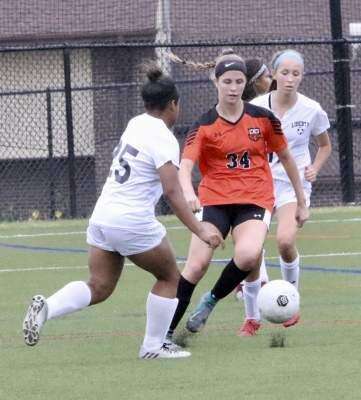 Published September 26. 2019 12:00AM
Northampton's girls' soccer team is doing more than winning games this season; they're building a program with seniors that they can't do without when they graduate, planning to reload with a new group they also won't be able to do without.
With only three losses on the season, the Konkrete Kids defeated Bethlehem Catholic, 7-2, last Friday.
"They're so talented," said Northampton head coach Mike Missmer.
So what Missmer is doing with that talent is putting into action the words of former Whitehall girls' soccer coach George Romano.
"He said, 'Everybody can be talented at a high level, but it's cognitively how they perceive the game in real time. You don't get to yell from the sidelines. You have to do it in training,'" said Missmer.
Last Friday, Isabella Nota scored the first goal for the KKids.
"It was a really good cross and I was in the right position, and I went to go chest the ball," Nota said. "I stepped in front of the defender and it went in the left corner."
By halftime, Northampton led 3-0.
"[Bethlehem Catholic] played a good game, but we were possessing well as a team and we were finding good passes," said Nota.
Northampton came out in the second half with a goal by Abbi Czarnecki in the first minute.
"We want to connect passes out of the back and within two passes, be in a team's attacking half, and we want to do that while we maintain possession. That's our goal all the time," said Missmer. "Today, we wanted to focus on our killer instinct."
The Kids will need that killer instinct this Saturday when they take on Emmaus for the second time.
"Keeping the intensity up will help us in bigger games like Parkland and Emmaus," said Nota.
Northampton's defense was also intense last Friday, as Becahi's two goals came late in the second half, both by Brooke Bisko.
"Brooke Bisko, she's speedy, but we seemed to keep it under control today," said Northampton defender Korinne Andersch. "Our coach likes us joining into the attack because it creates chaos for the other team. I love it. This is our first year starting with a 4-3-3."
The KKids are also looking forward to another match with Parkland and Nazareth.
"We feel we can play with anybody and we're excited to avenge those losses," Missmer said.