Community partners give away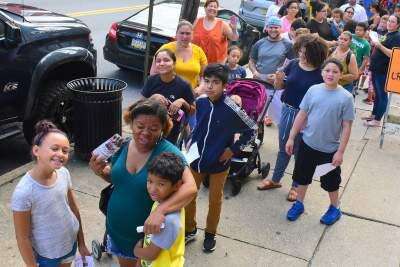 Published September 17. 2019 12:00AM
Hispanic radio station La Mega 99.5, Hispanic Center Lehigh Valley, St. Luke's University Health Network, Pennsylvania Career Link, H.G.S.K. P.C., Merge Barber School, Gateway Health, and JCS Professional Staffing, Inc. combined to provide over 500 backpacks, school supplies, haircuts and handouts to area families with school age children Aug. 17 at the Fowler Community Wellness Center.
La Mega 99.5 owner and morning show host Victor Martinez said each student would receive the backpack of their choice, each of which contained school supplies such as rulers, pencils, notebooks and glue, and a certificate for a free McDonald's 'Happy Meal.'
Families used a passport to visit individual sponsor stations, which was completed and turned in for a student backpack. Each student also qualified to receive a free haircut courtesy of the Merge Barber School.
Hispanic Center executive director Victoria Montero said any backpacks left over would be distributed to local schools.