Overtime goal lifts Emmaus past Trojans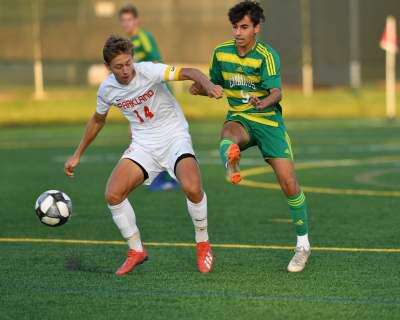 Published September 12. 2019 12:00AM
The Emmaus and Parkland boys soccer teams have a penchant for playing close games that go until the final whistle. That was once again the case in their matchup last Wednesday.
Emmaus's Andrew Gaines followed up on a rebound off of a direct kick from about 40-yards away from net and broke a 1-1 deadlock when he scored a golden goal 3:06 into overtime to help the Green Hornets take down the Trojans 2-1 at Emmaus High School's Memorial Field in Eastern Pennsylvania Conference action.
"I thought that the pace that they played with in their central midfield was next-level," said head coach Patrick Birns. "They were just so quick in the second half and flying around. It was impressive. We were lucky to get out of there 1-1. There were times where they could've had more goals. They're midfield controlled us that half and that was the difference."
The Trojans (3-1, 3-1) got onto the scoreboard first via a goal by Mustapha Salau. Salau was able to find space inside of the Emmaus defense and had a good look in front of goal to power home the opener.
The Hornets came out and took control of the game in the second half. After a Parkland foul set up a free kick on Emmaus's offensive third, Jake Perry lofted a ball in that was met by a leaping Pat Walsh, whose header beat Victor Baran for the equalizer just two minutes after halftime.
Both teams had their share of scoring opportunities the remainder of regulation, but none could break through.
Early in overtime, another Trojan foul led to an Emmaus free kick. And for the second time in the game, the Green Hornets (5-0 overall, 3-0 EPC) cashed in.
Baran finished with four saves on the night.
"We've had some young guys with not a lot of varsity experience playing some big minutes," Birns said. "The sophomore class is loaded with talent, albeit a little inexperienced.
"Our seniors are leading the way though. You always want to beat your rival, but it's week one. We'll see them a few more times."
Parkland wraps up its week at Pocono Mountain East tomorrow.