Member rant ends meeting Zoning issue questioned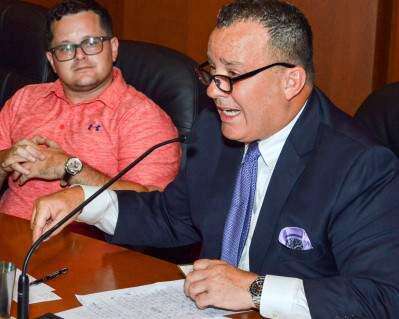 Published August 27. 2019 12:00AM
The Bethlehem City Council meeting went off the rails Aug. 23. Fortunately, it was at the end of the agenda, after the council's business had been already accomplished.
Councilman Bryan Callahan started out challenging some comments that he alleged were made by another councilperson to one of Mayor Robert Donchez's nominees for the Zoning Hearing Board.
At the heart of Callahan's indignation was the idea that campaign contributions would somehow influence a politician's vote and thus call into question the civil servant's integrity.
For more than half an hour, Callahan expressed his grievances to council, while frequently lapsing into charges and complaints leveled directly to individuals on the city council, a violation of council rules.
Council President Adam Waldron tried, but failed, to keep Callahan from directing his passionate remarks to individual council members. Callahan finally wrapped up his remarks by accusing a council member of "stabbing him in the back."
Callahan repeatedly claimed that his only goal was to introduce open debate on issues as opposed to deciding issues via phone calls and back-room deals.
During the business part of the meeting, retiring Bethlehem Police Department Officer John Sarnicky received a commendation from City Council President Adam Waldron. The citation recognized Sarnicky's over 20 years' service to the city. He was accompanied at the brief ceremony by his wife and daughter. Sarnicky said he plans to be a school teacher.
Retired Lehigh University professor Stephen Antalics challenged council members to explain the logic behind designating five unrelated students as being, for zoning purposes, "a family."
"Can you not see the contradiction?" asked Antalics. "To a grade-school student it would be obvious – the discrepancy here."
Antalics said single-family houses are being razed by student housing landlords or developers and being replaced with five-bedroom homes to be used as student housing, but which they designate as "single-family" homes in order to stay within zoning regulations. He said this practice is detrimental to the housing stock and to the quality of life in South Bethlehem.
Council members, as is they frequently do when asked questions by citizens, made no response.
In other business, council unanimously passed an amendment for the golf course Enterprise Fund budget and an amendment for the Community Development Block Grant budget; however, the Memorial Pool Complex Non-utility Capital Improvements bill was passed over the objections of Councilwomen Dr. Van Wirt and Olga Negrón both of whom voted against the bill.
Van Wirt and Negron have voted against this on three previous occasions. Van Wirt said she was not comfortable funding the Memorial Pool until it is clear how the City is going to fund and care for other community pools.
Councilman Shawn Martell, who has resigned, was not present. Council approved a motion allowing Democrat Grace Crampsie Smith to serve out Martell's remaining term, but she has not yet been seated.
Bethlehem City solicitor William Leeson described a proposed new ordinance that will allow the management of the Charlie Brown Icehouse to serve alcohol outside the building, for example; in a kiosk or tent in the parking lot of the popular venue. He said that the exact limits for out of building alcohol would be set by the individual permit for particular events.
Resident Lynn Rothman read part of a letter she had sent to the Bethlehem Parking Authority asking that plans for the planned Polk Street parking garage "minimize harm to the environment" by including electric vehicle charging stations and provisions to use solar panels as part of its power grid.
Mayoral appointee to the Fine Arts Commission Mary Molder was approved by council. Mayor Donchez sent council a letter withdrawing his nominees to the Zoning Hearing Board, Carol S. Ritter and Mary-Frances Stone; no explanation was offered.