National Night Out Hanover (NORCO) Twp.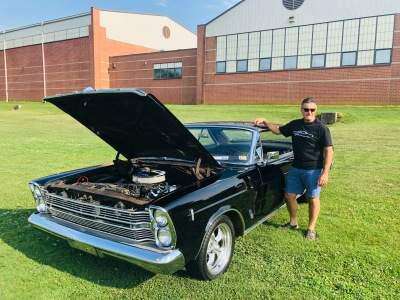 Published August 13. 2019 12:00AM
Cars, food, games and fun greeted Hanover Township residents for the National Night Out Aug. 6, presented by the Hanover Township Community Center and the Colonial Regional Police Department. The annual event is an opportunity for community members to meet first responders while developing and strengthening a positive relationship between law enforcement and the community.
The entrance of the township's community center campus was converted into a helicopter landing pad. The community center parking lot was transformed into a midway that included games, inflatables, and free food, and the grassy field next to the center was transformed into a stylish parking pad for a car show.
As eventgoers walked between the three main attractions at the event, everyone stopped to stare at the helicopter that flew precariously low over the crowd. The helicopter, a MedEvac unit from Lehigh Valley Health Network, landed in a field next to the main entrance of the park. Helicopter pilots donning jumpsuits emerged from the aircraft. They were immediately greeted by attendees. The pilots began showing patrons the inside of the aircraft and explaining how the MedEvac unit functions and its purpose and mission.
In the main parking lot, where the games, inflatables and food were, police and firemen met with children and their parents. Hanover Township had several police cars on hand as well as a fire truck and an ambulance, all for demonstration purposes. First responders gave patrons an insight into their day as a Hanover Township first responder. First responders answered questions from event goers and posed for pictures with them.
Nearby, kids played in a bounce house while music filled the air. Hanover Township provided free hot dogs, ice cream and birch beer to all of the event's visitors on the main concourse.
In the field next to the community center, a third main attraction was getting a lot of attention: the township's annual car cruise and car show, which is a part of the National Night Out festivities. Cars ranging from antique and classic to modern and flashy cruised through the entrance of the park and onto the nearby field.
Roughly two dozen cars spanned the field in hopes of having their car recognized by the event and attendees. Spiro Dendrinos, of Hanover Township, took the opportunity to show off his fully restored 1966 Ford Galaxie 500. Dendrinos, an associate real estate broker in Bethlehem, explained that his car was comprised of original work and only had 65,000 original miles on it. He was proud showcase that the car was featured in an edition of Cars and Coffee magazine last year and he even had a copy of the magazine as well as the original owner's manual.
Next to Dendrinos' car was George Nassif's 1974 Pontiac Grand Ville. Nassif, an attorney from Hanover Township, showed his car off with his two sons, Anthony and Lambrose. He bought the car in Las Vegas in 2009 and is motivated by his love of cars and his passion to have his kids experience cars the way he did. A few cars down, Tony Pangaio showed off his limited edition 2015 limited edition Ferrari 458 Speciale Aperta (it is 1 of only 499 ever made ) and his Lamborghini Performante (it is one of only 177 ever made).
The event also included child seat safety checks and k-9 demonstrations by the Colonial Regional Police Department and meet and greets with first responders and Township management. It was a night everyone seemed to enjoy, with many attendees already talking about next years National Night Out.