Catty boys win two games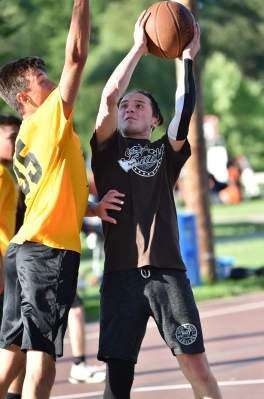 Published June 26. 2019 12:00AM
With a strong showing at the recent Cedar Beach Basketball Showcase, Catasauqua's budding boys' basketball program got a boost of confidence toward the future.
The Roughies finished with an overall 2-2 mark, dropping their final game to eventual small school champion Salisbury. They beat Roberto Clemente School in their opener, beat Northwestern in double overtime, and then dropped a game to Lincoln Leadership before their final game.
Derek Troxell, Damian DiPaolo, and Derek George provided the bulk of scoring for the Roughies. George had 18 in the win over Roberto Clemente.
"Derek (Troxell) always is pretty steady and George played great," said Roughies' assistant coach Brandon Keks. "George should have a great year. Damian DiPaolo played JV last year, and he is definitely coming on this year. He is very aggressive out there.
"The team has played very well, and they should have a good year."
Head coach Eric Snyder also has been impressed with team's showing.
"We did pretty well," said Snyder. "These kids really battled through it, and I am very proud of what they did.
"We played everyone tough and had a good game with Salisbury, who won the small school title. We were up with a minute to go, but we missed the front end of a one-and-one."
Snyder credits the team's cohesiveness that has been triggered by a large group of incoming juniors.
"They really are a good group of kids," he added. "They all hang out together and really like each other. We have had about 15 kids to games and workouts. Most of these kids have played together for a long time."
Snyder noted the team has lost Ty Reitz and Cole Schiffer to injuries. Schiffer has an ankle injury and will be in a boot until the end of September.
In addition, three prominent contributors to the Catasauqua athletic community will be honored at the North Catty playground Tuesday, July 2, beginning at 6:30 p.m.
John Joseph Yanek, who was involved for more than 30 years in the development of men's and women's volleyball, will have the volleyball courts named in his honor; Robert "Wobs" Chromiak, who was involved in the summer recreational program along with various other competitions from 1955-80, will have the basketball courts named in his honor; and Frank Molchan, who has a 20-plus year career working with youth with Whiffle Ball and other sports and games, will have the fields named in his honor.