Grapplers down Palmerton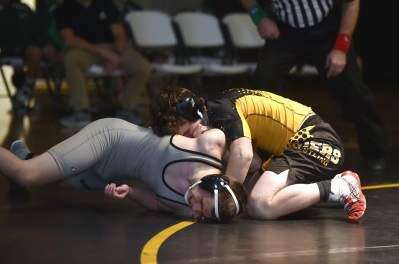 Published December 23. 2018 11:00PM
Northwestern head coach Jim Moll expected a tight match in the Tigers' Colonial League opener at Palmerton last week. He even anticipated a much closer result than what transpired.
Nonetheless, it was a solid win for a Northwestern team that graduated six wrestlers and four state qualifiers a season ago.
Three Tigers picked up pins last Wednesday night, including Ryan Haverkamp's fall at 182 pounds to close out Northwestern's 40-30 win over Palmerton.
"We expected a close match," Moll said. "I actually had it closer than what it ended up being. I'm happy with how we wrestled, which is more important than the score."
"I knew it was going to be a good, competitive match going in," Palmerton head coach Justin Peterson said. "There were a lot of swing matches. They just out-wrestled us in a few of those key matchups."
After Palmerton's Matt Lalik earned a tough 3-2 decision over Ryan Haas at 160 pounds to get the Blue Bombers within 31-30, Northwestern picked up two key wins to close out the match.
First it was Will Dellicker, who earned a 9-3 decision at 170 pounds to give the Tigers some breathing room at 34-30.
Dellicker and Palmerton's Dylan Gonyo were tied 2-2 heading into the third period when Gonyo started off in the down position. Dellicker allowed an uncontested escape to Gonyo, and then moments later took down the Blue Bomber for a 4-3 advantage. Five back points helped Dellicker seal the victory.
"I knew I was going to win," Dellicker said. "I knew it was going to be ugly, but I was a little gassed. You're never quite in wrestling shape in the beginning of the season. I was pretty confident going into the match."
Moll was also pretty confident in Dellicker's ability on his feet.
"That's why we cut him right away in the third [period]," Moll said. "We like our chances better on his feet than we do mat wrestling. We put him in the best position to win, and he took care of business."
Haverkamp then pinned Palmerton's Jon Eckhart in 41 seconds to close out the win.
The match ended in a similar way as it started, with a Northwestern pin. Tyler Watson earned a fall over Palmerton's Aidan Melber at 195 pounds for a quick 6-0 Tiger lead. Isaiah Juhri (220), Mason Brensinger (126), Donovan White (138) and Harrison Bernhard (145) also picked up wins for the Tigers.
"I think it's a great confidence booster coming in here and getting a win," Dellicker said. "We knew coming in here it was going to be a pretty close match. It's definitely good for our confidence."