Makers host second annual STEAM event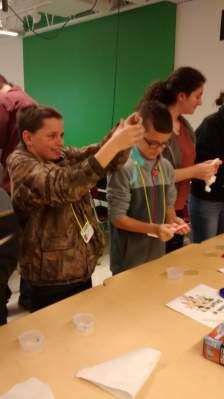 Published January 03. 2018 11:00PM
As the fifth grade students marched into the high school's STEAM lab, excited voices reflected their enthusiasm at the prospect of exploring scientific principals using science, technology, engineering, art, and mathematics in an innovative way.
The event was conjured up by husband and wife team Jeremy and Tracy Smoyer.
"Since the fifth graders heard about what we did last year, they were really looking forward to coming to the high school," said high school math teacher Jeremy Smoyer. "There were five stations the fifth graders [could] go through; squishy circuits, slime station, vortex cannon, superhero silhouettes, and laser cut snowflakes.
"The sessions [were] about an hour long."
The excitement was palpable as fifth graders clustered around junior Connor Blawn, who was demonstrating a vortex cannon.
"The vortex cannon is my favorite," he said. "To see and know the science behind air flow and pressure and to see the power of vacuum and air pressure is pretty cool."
"When Connor shot [the cannon], it was really cool seeing the smoke," Luke Trash agreed.
The students then tried the canon for themselves. A pyramid of paper cups collapsed each time the air canon was released.
"You couldn't see anything but the air hit the cups," said Aiden Braadt.
There was fun to be had at the other stations as well.
"It was cool the Play-Doh could light up [the little bulbs]," said Olivia Spatz of the squishy circuits, "but I think making the slime was probably my favorite."
"I always wanted to make slime. Normally my mom doesn't [allow me] to have slime because it's sticky, but here you could do it," said Garry Shaffer.
"[It's] pretty cool. They made the slime and I put the dye in it. I never knew Play-Doh could conduct electricity."
"You learn new stuff like about making electricity," Evan Daniels said. "There's salt in it and that makes the electricity."
"They could make slime or play with kinetic sand," said 11th grader Hallie Bortz, kneading the latter. "Normal sand falls apart, but this has slime in it so it stays together. It's an arts and crafts [item] and basically a toy [that's a lot] easier to clean up."
Nathaniel Moneymaker and Tanner Klotz manned the squishy circuit station.
"Electricity can pass through more than wires," explained Moneymaker. "Here, we're using conductive dough and a 9 volt battery with some alligator clips."
Adreianna Hummel was really impressed.
She was able to electrify 16 lights at her favorite station.
"I like how you've got to keep trying. It's not easy to do."
Michael Boushell manned the green screen station.
"Basically, we're just taking pictures in front of the green screen.
"We ask the fifth graders] to do poses. Then print it out for them so they all get their own copies of the picture," he said.
Boushell used television weather reporting to explain how green screen works.
"They pose in front of a green screen. The maps are all put in by computers. The weather men can't actually see them in real life," he said.
The Makers replicated last year's event with one exception.
"I took my classes down to the elementary school and did our coding there," Jeremy Smoyer said.
Last year, the coding was done in a separate room at the high school.
"There's a program called Hour of Code [which we used with the second, third and fourth graders to code last week]," said Tracy Smoyer. "With a little help from about six or seven programming kids, they did a great job."
The Smoyers say they are equipping their students with 21st century learning skills.
"The MFA is the new MBA," said Tracy Smoyer, who teaches art. "If you engineer something you have to be able to design it first."
Her husband also discussed the goal.
"The kids get to see art being done with circuits and chemistry with the slime.
"Gone are the days of the guys in suits with the thin black ties. Now, they're going to have to talk with other people. That's what employers are looking for these days."
Tracy Smoyer said the experience is more than just doing art.
"It's a working relationship," she explained.
"We're not just making art online. There's a whole other level, and that reaches a lot of kids who don't think they have skills in drawing."
Fifth-grade teacher Patricia Greenawalt was happy to escort her students to the event.
"This is the second year we've come over here" Greenawalt said.
"It gets the students interested in science and technology and helps them understand why things occur. It's amazing."
Klotz liked the whole idea of the Makers event.
"It's good [these kids] get to see all the technology they'll use when they get to the high school," Klotz said,
"I've been a part of the Makers since ninth grade," said Blawn. "We just want to make it a fun experience for kids."
"Students see what kind of things are possible and make connections," said Tracy Smoyer. "Kids need to realize everything all fits.
"At Wilson, they're actually hiring STEAM teachers. It's all about talking and collaborating in an interdisciplinary way.
"Just because we're a small school doesn't mean we can't imagine doing this every day."