Falcons edge Tigers, 7-3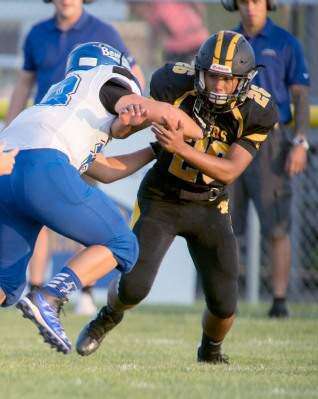 Published September 11. 2017 12:00AM
While the Northwestern defense was able to considerably slow down an impressive Salisbury offense, the Tigers' own offense had its momentum interrupted throughout the game, resulting in a 7-3 loss to the Falcons last Friday night.
Salisbury, which scored 47 points in its season opener and compiled just over 500 yards of total offense, struggled for yardage in week two against the Tigers. It wasn't until late in the third quarter that Salisbury got on the board, and that drive was aided by an untimely defensive penalty.
With 4:36 left in the quarter, Salisbury started from its own 28-yard line and needed just eight plays to go 72 yards, with the big play being a 22-yard Cameron Vaka to Tommy Jones pass that gave Salisbury a first-and-goal from the Tigers 9-yard line. The drive was aided by a personal foul penalty on the Tigers.
"That penalty was just undisciplined," said Northwestern head coach Josh Snyder after the game. "Part of that is being young, but we have to be smart enough not to shoot ourselves in the foot like that. We'll clean those things up though as we continue to get better."
Salisbury's Tim Buda, who ran for 167 yards against the Rough Riders, dove for five yards on first-and-goal, and Kyle Pingarelli finished off the drive with a four-yard jaunt over the right side of the line for the game's only touchdown.
"I thought we played pretty well, especially considering that we have a lot of guys playing out of position and in some cases, playing positions that they've never played before," said Snyder. "I thought Riley Nyce had a really good game at outside linebacker and he's not familiar with playing there. It really was just that one drive where things got away from us."
After a scoreless first quarter, Northwestern put together a sustained drive on its first possession of the second quarter.
Starting from their own 26, the Tigers kept the ball on the ground for the most part, and marched down to the Salisbury 23-yard line.
On a third-and-four, Jayden Allen was stuffed at the line setting up a fourth down. Snyder elected to bring on Hunter Miller, who nailed a 39-yard field goal with plenty to spare to give Northwestern a 3-0 lead. Snyder reported that during practice throughout the week, Miller had hit from as far away as 50 yards, giving the Tigers a potential weapon on special teams.
Miller was almost called on for an encore when a Northwestern drive stalled at the Falcons' 29 late in the second quarter. Instead, Snyder elected to go for it on a fourth-and-nine, thinking his team would need a touchdown to be secure.
On the play, quarterback Deven Bollinger's pass fell incomplete and Northwestern turned the ball over on downs.
The Tigers could never sustain any momentum. At times, they started to move the ball only to have something go awry and throw them backwards. Bollinger had more time to throw this week, but was still sacked three times in the game.
"Part of that is being young," explained Snyder. "Good teams overcome those things when they happen, or they avoid them happening, but we let it throw us tonight. We have to get better at sustaining drives and not letting things get away from us."
As the Tigers look to establish a ground game this season, they may have found a piece of the puzzle in Jayden Allen. The sophomore running back was called on for 21 carries, collecting 62 yards on the night.