Lehigh police receive commendations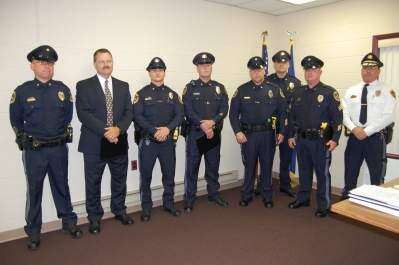 Published June 09. 2016 12:00AM
At the beginning of the May 24 Lehigh Township Board of Supervisors meeting, police commendations were given, honoring officers for two events.
At the last meeting, Chief Scott Fogel had asked residents to thank all the police for their efforts, especially since it was National Police Week.
The commendations followed through when Detective Matthew Enstrom, Sgt. John Henry III and Officers Philip Mirabile, Christopher D'Alessandro, Douglas Geisner, Robert Gogel and Craig Ball were honored.
Fogel said the commendations were a way to show "we appreciate what they do."
A couple of events stood out last year, he said.
"When there is a tragedy, we try to find what happened," Fogel said.
On Feb. 24, five members of the department were dispatched to Duke Street for an incident involving a child. Geisner tried to resuscitate the child and said the incident may not have been the result of an accident, so the scene was secured.
Enstrom spent a year working on the case and determined it was a homicide. Two people were arrested.
In another case, from Feb. 28 to March 7, there were three offenses on Lehigh Drive. On the third call, Gogel responded. The vandalism caused $3,000 in damages. Two juveniles were found to have been the offenders.
The families of many of the officers were present for the presentations.