1964 team finally gets its medals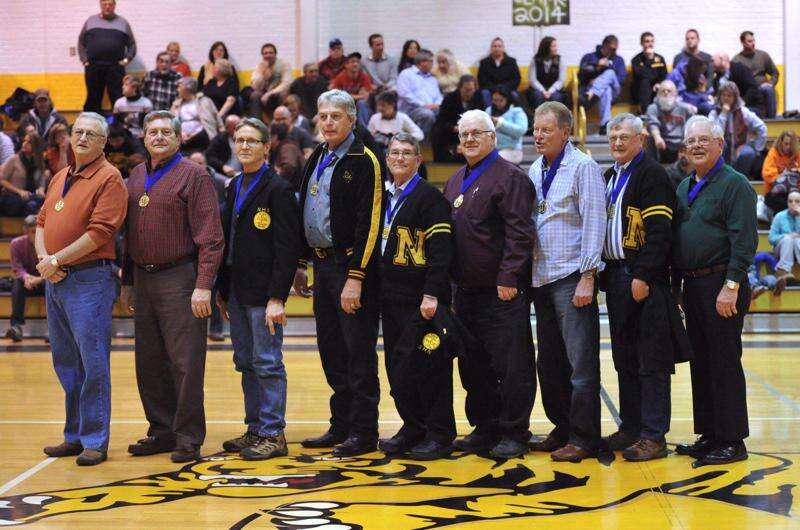 Published February 12. 2014 11:00PM
The Northwestern Lehigh boys' basketball team captured its first district championship in 1964.
During halftime of last Friday night's game between Northwestern and Catasauqua, that team was honored for winning the District 11 Class C Championship 50 years ago. The Tigers defeated Jim Thorpe in the title game.
Under the guidance of head coach Russ Stoudt, who played three sports at Kutztown University and is a member of the school's Hall of Fame, the Tigers put together one of the best runs in school history.
The names of those recognized on Friday night were: Rich Mengel, Roger Mantz, Charles Fink, Dennis Snyder, Donald "Chico" Christ, Robert Nester, Calvin Fetherolf, Gary Snyder, Dick Follweiler, Glenn Wotring, Alvin Street, Arnold Metzger, Assistant Coach Bill Loy, Fred Gardner (deceased) Gerry Hartman (deceased), Jim Balliet (deceased) and Stoudt (deceased).
"I was just so proud that I was a part of the team," Follweiler said. "I was so glad that we all got together and played as a team, and got a victory for Russ Stoudt, which was a long time coming for him."
"We had the smallest school, and we played all pretty big school's[Class] A's and B's," Mengel said. "We were the only [Class] C in the district besides Jim Thorpe. So even to win half of our games was pretty good."
The Tigers weren't awarded medals by the district at the time of their championship. It may have taken nearly 50 years, but now these players have that hardware to remember the historic season they accomplished.
"Back then, they didn't give medals out for winning districts like they do now," Dennis Snyder said. "So this is the first medal we got. The school gave us a nice jacket for winning it."
"Getting those medals, it was a total surprise," Follweiler said. "Even when I got back home, my wife said that's really neat that they did something like that for you fellas."
Many of the players were in attendance for the ceremony, including Follweiler, who scored a game-high 42 points to help the Tigers secure the championship. He'll admit he wasn't even aware of his total until the next day.
"To tell you the truth, I didn't know what I had," Follweiler said. "The next day I get up to school and they're talking about I had 42 points."
Follweiler, who resides in South Carolina, heard the news about the ceremony on Monday. After going back and forth about showing up for the ceremony, he knew it was a unique opportunity that wouldn't come again.
"It was a wonderful experience," Follweiler said. "I'm glad I made the trip. Seeing some of the fellas that were on the team, it brought back a lot of memories."
"I was so glad that Dicky Follweiler could come up," Dennis Snyder said. "He wasn't sure if he could make it at first, but then he did come up. That was really great."
The Northwestern School District was formed in 1958. When it was created, a number of players from the Slatington area joined the school district.
The ceremony certainly brought up old memories from their playing days as well.
"We had a good chat after the game, "Dennis Snyder said. "After everything was over, we stood and talked about all the stuff. It was really nice."